Weed Website Budtrader.com Crashes A-List Hollywood Yacht Party at San Diego Comic-Con 2017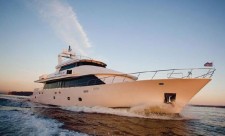 SAN DIEGO, Calif., July 18, 2017 (Newswire.com) - The BudTrader Superyacht Set Sail for Pro-420 Weekend-Long Comic-Con Yacht Party; Featuring 420 Friendly Celebs, Networking, BudTrader Babes and Top Secret Surprises.
BudTrader.com, the world's most popular online platform for the legal cannabis industry might have pulled off the Greatest PR Stunt of the Century! Today they announced that for the first time the brand will be hosting a weekend-long Comic-Con party on their "Super-Yacht" at the notoriously exclusive 5th Avenue Landing (immediately behind the San Diego Convention Center) during San Diego Comic-Con International 2017. According to 5th Avenue Landing Staff the slips for the Super Yachts are usually booked up to one year in advance and are typically reserved for Hollywood Movie Studios and Media Conglomerates. How was BudTrader able to pull this off?
A representative for 5th Avenue landing said, "We had a last minute cancellation a few weeks ago and we had a slip available. A few hours later a young man wearing glasses came in asking to rent the exact same slip. It was too much of a coincidence so someone must have tipped him off that a slip had become available. I asked him what kind of boat he had? He answered he didn't have a boat yet, but that he was working on it. He also had to call American Express to get them to approve his charge for the slip which is never a good sign. I was worried he wasn't going to be able to find a boat in time and I certainly didn't expect him to be able to rent a yacht, but I was rooting for him. He was very polite and energetic. When he called me to register The Liquidity, which is a 125 foot, Luxury Super Yacht, I almost fell out of my chair."
The weekend-long party is accessible by invite only. The Yacht with its 2 decks, 3 levels, 6 bedrooms, bar, office and Jacuzzi will serve as a hub to top cannabis brands, investors, and celebrity pot connoisseurs. According to a BudTrader online post, early RSVPs include Hip Hop Stars, former NFL and NBA athletes, 420 Book, High Times, Major Cannabis investors and Cannabis Friendly Celebrities.
BudTrader's yacht will be docked at 5th Avenue Landing, immediately behind the San Diego Convention Center, between Thursday, July 20 through Saturday, July 22. VIP Guests can get their hands on BudTrader swag bags full of the highest quality cannabis products, along with first-look, new product exclusives only available at the BudTrader Comic-Con Yacht Party. At night, BudTrader will be throwing dance parties on the deck, where guests can unwind from a long day at Comic-Con and rub elbows with A-List VIPs and "the world famous BudTrader Babes."
Over 150,000 attendees are expected to flock to the San Diego Convention Center for Comic-Con this year. The convention is one of the largest of its kind in the world, and convention-goers are expected to spend over $82,800,000 over the course of the weekend in San Diego.
Described by some as "the Craigslist of Cannabis," BudTrader.com allows members to post and respond to ads for medical marijuana products and services. The site has grown exponentially in the first half of 2017 and now draws well over 8 million page views monthly, with roughly 1,000,000+ registered users. CEO Brad McLaughlin (most likely the glasses sporting stranger that miraculously booked the coveted 5th Avenue slip, by comparing the description to his public Facebook profile picture) has used his new public platform to advocate passionately for safe access to medical marijuana across the country, and has begun to mold the BudTrader brand into a media powerhouse with the planned launch of BudTrader TV later this summer, which will feature original content from a variety of creators on the subject of cannabis.
First Published by The Marijuana Journal
Media Contact: Kelly Richards
kelly@themarijuanajournal.org
Source: BudTrader.com
Share:
---
Categories: Celebrities, Entrepreneurship, Marketing, Conventions, Trade Shows, Meetings and Events, Arts and Entertainment, Business
Tags: budtrader, cannabis, celebrities, comic-com, dispensaries, hightimes, news, sandiego, weed, yacht
---
BudTrader
533 2nd street (216)
Encinitas, CA 92024
United States