Top Cannabis CEO Promises His 4/20 Event Will Be the Greatest Show on Earth
BudTrader.com Brings Cannabis Industry's Quintessential 420 Holiday to Los Angeles with its 3rd Annual BudTrader Ball. Black-Tie Gala's "Space and Time" Themed Red Carpet Event Takes 420 Celebrations, Cannabis and Tech to Whole New Levels!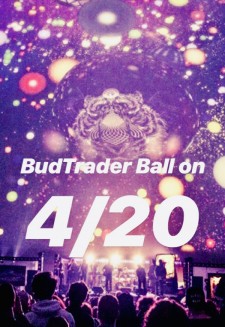 LOS ANGELES, April 4, 2019 (Newswire.com) - BudTrader.com, the top cannabis social media platform and ad marketplace, will be having its 3rd Annual BudTrader Ball at WISDOME's Virtual Reality Park in downtown Los Angeles. The 3rd annual BudTrader Ball will take place on April 20, 2019, to celebrate the annual 4/20 holiday.
BudTrader's extravagant cannabis industry gala is expected to draw 1,500 notable and influential cannabis community and select guests this year, indicative of the company's astounding growth and respected reputation for events. This black-tie event has become the quintessential 420 party for Southern California, attracting VIP guests and industry leaders from around the country. Guests include scores of famous entertainers, professional athletes, celebrity recording artists, media figures and other influential personalities who share a love of cannabis and the community.
The BudTrader Ball's party will utilize all 5 of the WISDOME VR Art Park's cutting edge domed rooms. Each of these vaulted ceilings is equipped for Virtual Reality, 360 audio and 360 projection mapping experience. Party-goers will get to enjoy SAMSKARA, the Immersive Art Experience by artist-in-residence, Android Jones, along with non-stop multimedia VR experiences throughout the venue. "The 3rd annual BudTrader Ball, on 4/20/2019, will be the Greatest Show on Earth! 100 percent!" BudTrader CEO Brad McLaughlin exclaims. He added, "We're creating a Virtual Reality Cannabis Musical Experience. It's never been done before. BudTrader and the 3rd annual BudTrader Ball is proof that Cannabis has gone 'HIGH TECH' (no pun intended)."
DJ Lord of Prophets of Rage, Public Enemy and the iconic Cypress Hill headlines this event. DJ Lord is well known for his skill mixing "old school style," using turntables to bring an eclectic mix of music to any scene. Guests will also get to enjoy celebrity music performers Slim 400, Alec King (Spotify #1 new hip hop artist), Rachel Goodrich, Lauren Ruth Ward, Dylan Meeks (Imagine Dragons) Peel'd (members of Edward Sharpe Magnetic Zero, Vampire Weekend) and more.
BudTrader has aligned with an array of sponsors to ensure the luxury cannabis swag bag for guests is full of new products, exclusives, top-shelf private reserve cannabis flower, designer vapes and concentrates, edibles, new and unreleased gear and the latest cannabis accessories and tech. It has become tradition that BudTrader seeks out the newest and finest brands in the cannabis industry to showcase their high-end products in the gift bags.
"In addition to being a time-honored tradition in the cannabis community," McLaughlin says, "The BudTrader Ball (and swag bag) has become the place where brands want to be to get noticed by the media, the public and cannabis investors."
About BudTrader:
BudTrader.com is the largest online cannabis social media marketplace. Its platform is available in the United States where cannabis use is legal, as well as Canada and Puerto Rico. Their two-million registered users can safely and legally post and reply to classifieds-style ads for cannabis products, services, jobs, equipment and more while also networking.
Media Contact:
Victoria Omega
victoria@themarijuanajournal.org
The Marijuana Journal
Source: BudTrader.com
Share:
---
Categories: Cannabis
Tags: 420, budtrader, budtrader ball, cannabis, Entrepreneur, music, pot, social media, spotify, stocks, weed, wisdome
---
BudTrader
533 2nd street (216)
Encinitas, CA 92024
United States