Top California Pot Brand Travels to Texas, Gives Away Thousands of Sno-Cones and Organizes Beach Clean Up
The BudTrader team traveled from Cali to Texas to show their support and volunteer at the Texas CannaFest 2018 event in Crystal Beach, Texas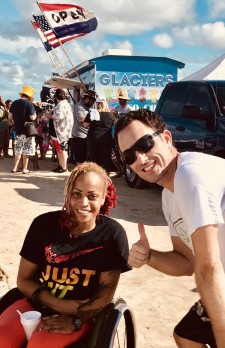 CRYSTAL BEACH, Texas, September 5, 2018 (Newswire.com) - Budtrader.com the worlds largest cannabis platform, traveled from Los Angeles, California to Crystal Beach, Texas this Labor Day Weekend, September 1st and 2nd, to attend Texas CannaFest 2018 a cannabis legalization rally. The event was organized by Cannabis Open Carry Walks (https://420opencarry.com), an advocacy group whose goal is "to organize people all across Texas to further cannabis legalization."
BudTrader CEO Brad McLaughlin had this to say about what motivated him to take the BudTrader team to Texas for this event. "The fight isn't over. Until cannabis is legalized nationwide, BudTrader and the entire cannabis community will not rest until every adult American has safe access to legal cannabis, especially those who are sick and our honored veterans. If we save the weed, we can save the world."
BudTrader and the entire cannabis community will not rest until every adult American has safe access to legal cannabis, especially those who are sick and our honored veterans. If we save the weed, we can save the world.

Brad McLaughlin, CEO of BudTrader.com
Kory Watkins, President of Cannabis Open Carry Walks Texas and organizer of Texas Cannafest 2018, said in a statement; "Brad knows what he's doing. We learned a lot working with him and the BudTrader team. They brought a lot of energy and enthusiasm to CannaFest that helped to make the event such a huge success. They have this amazing ability to bring pro and anti-cannabis people together through mutual respect and by finding common ground. I never thought something like that was even possible in Texas. It's great to see a big California cannabis company like BudTrader who cares about us over here in Texas. We look forward to a long and prosperous relationship with BudTrader as we keep fighting for cannabis legalization in this state."
Because cannabis use is currently illegal in the state of Texas (except for in cases of extreme epilepsy), the local sheriff warned members of the community not to risk arrest by consuming cannabis on Crystal Beach during CannaFest. On Friday prior to the event, the Chambers County Sheriff's Office issued a warning on Facebook "to Cannabis Festival organizers and participants," stating that officers would be "enforcing the laws regarding marijuana and all controlled substances." In other words, the Sheriff's Office was threatening to arrest any person consuming cannabis at the festival without exception. Texas CannaFest Organizers say that the rally was a complete success. There were no arrests, injuries or incidents of any kind reported during the two-day event. A level of mutual respect and cooperation was achieved early Saturday with Sheriff's deputies who wanted to ensure that Crystal Beach remains a family-friendly place. "We understood the Chambers County Deputies concerns and we addressed them immediately. We all agreed we wanted a fun, safe, incident free, family-friendly environment and together we achieved that," said McLaughlin.
McLaughlin was one of ten speakers at the rally, a lineup which included politicians, educators and a patients' rights advocate group. The rally also included performances by musicians and comedians, a fireworks and light show and more.
In addition to delivering a speech to the crowd on Saturday, McLaughlin kept attendees in suspense by hinting that he would be revealing a big surprise Saturday afternoon. Some speculated that BudTrader would be giving away pre-rolled joints like they have done in the past in California or maybe they would rent a yacht like they did at San Diego Comic-Con. The crowd was definitely taken by surprise when McLaughlin pulled up to the event grounds in a sno-cone truck and surprised everyone by giving away free sno-cones to anyone on the beach Saturday. Paul Welch, who owns and operates Glaciers Sno-Cones (https://www.facebook.com/glacierssnocones) with his wife Genne Welch, estimated that they served thousands of Sno-Cones Saturday. "Every 500 sno-cones we would run the credit card Brad and BudTrader provided us. I kept asking how long he wanted to keep paying for everyone's sno-cones and Brad just kept saying 'not until everyone's gotten one that wants one' My wife and I thought he might be crazy at first but he was just being generous. I heard him say that when a friend invites you to come over for dinner, it's polite to bring a dessert and since he was invited to Texas for dinner and it was hot, he had to bring a lot of sno-cones for dessert. It was a lot of fun, I'll never forget it."
BudTrader also organized a group of around one hundred volunteers to do a cleanup of Crystal Beach on Saturday and Sunday after the event in an effort to clean up after themselves and leave the beach in better shape than it was when they arrived. The BudTrader team does regular beach cleanups with volunteers in Southern California, so the team was able to coordinate quickly to pick up almost twenty trash bags full of trash from Crystal Beach where the event was held. McLaughlin says he wanted to demonstrate to Texans that the cannabis community is responsible and eager to contribute to the betterment of the world at large.
BudTrader.com is the largest online cannabis marketplace. Its platform is available in 29 states where cannabis use is legal, as well as Canada and Puerto Rico. BudTrader allows over one-million users to safely and legally post and reply to classifieds-style ads for cannabis products, services, jobs, equipment and more.
Media Contact:
Victoria Omega
The Marijuana Journal
TheMarijuanaJournal.org
Source: BudTrader.com
Share:
---
Categories: Business News, Cannabis
Tags: budtrader, cannabis, cannafest, crystal beach, hemp, labor day, legalization, marijuana, rally, texas, weed
---
BudTrader
533 2nd street (216)
Encinitas, CA 92024
United States