Pot Company Plays 'Where's Waldo Weed Edition' for Halloween Across Seven States
BudTrader.com Plays 'Where's Waldo: Weed Edition' Halloween Weekend, Contest Goes Viral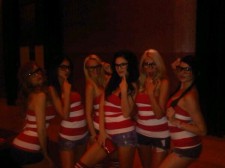 ENCINITAS, Calif., October 31, 2017 (Newswire.com) - BudTrader.com announced a contest on the site's social media on Saturday, just in time for Halloween Weekend. "Where's Waldo?: Weed Edition" involved reps from BudTrader going out to bars, clubs and parties dressed as the popular children's book character Waldo from "Where's Waldo?". If BudTrader fans were lucky enough to catch up to one of these Weed Waldos, they would be rewarded with prizes.
"Here's a hint;" said BudTrader CEO Brad McLaughlin in his post on Facebook that was quickly shared thousands of times. "The prize is WEED!"
If you find Waldo, you win a prize and here's a hint, the prize is WEED.

Brad McLaughlin, CEO of BudTrader.com
The post announcing the viral contest was updated on Sunday morning to announce that all of BudTrader's Weed Waldos were found in California, Washington, Colorado, Nevada, Florida and Michigan. The contest winners, many of whom were also in costume, took to social media to post photos of themselves with the BudTrader Waldos. Prizes consisted of top-shelf medicinal marijuana, edibles, and other high-quality cannabis products from BudTrader affiliated brands.
This is not the first time BudTrader has used guerrilla tactics and cannabis giveaways to spread the word about their site. The brand recently gave away over 10,000 joints at the California Cannabis Business Conference, and gave five lucky BudTrader users VIP access to their exclusive BudTrader Superyacht Party at San Diego Comic Con 2017.
In addition to their headline-grabbing viral contests, parties and giveaways, BudTrader has also lined up an all-star Advisory Board, consisting of former NFL champion Marvin Washington, former WeedMaps CTO Grant Koneke, Duchess Capital hedge fund manager Douglas Leighton, and Jim Skelton, former CEO of Ocean Pacific.
BudTrader.com is the largest online medical marijuana marketplace, currently receiving 8-10 million pageviews monthly. The site allows users to post ads for their cannabis products, services, jobs, real estate, and more, on a safe and legal platform. BudTrader has just surpassed its 1 millionth registered user, and is operating in the 29 states where marijuana is legal, as well as Washington D.C., Puerto Rico and Canada.
Media Contact:
Tennie Brown
tennie@themarijuanajournal.org
Source: BudTrader.com
Share:
---
Categories: Humor, Business News, Entrepreneurship, Marketing, Entertainment, Business
Tags: budtrader, cannabis, halloween, marijuana, trick or treat, weed
---
BudTrader
533 2nd street (216)
Encinitas, CA 92024
United States