Pot CEO Proposes Using 'Hempcrete' to Build a U.S./Mexico Border Wall Funded by a 3 Percent Federal Cannabis Tax, Built by Military Veterans
Brad McLaughlin's Proposed Plan Would Construct 1,954 Miles of Border Wall Using Industrial Hemp Materials Grown by U.S. and Mexican Legal Cannabis Industries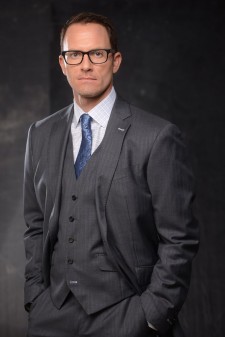 SAN DIEGO, December 13, 2018 (Newswire.com) - ​​​Brad McLaughlin, CEO of BudTrader.com, the largest online cannabis marketplace, has released a white paper (https://california.budtrader.com/ads/budtrader-hemp-border-wall-white-paper) in which he proposes constructing a wall along the U.S./Mexico border in an unconventional way.
The goals of McLaughlin's proposed BudTrader Border Wall plan are stated in the white paper as follows:
Construct a wall along the U.S. / Mexico Border using industrial hemp materials.

To employ 36,000 U.S. Veterans to construct the wall, reducing the unemployment rate for veterans by 10 percent.

To secure nationwide federal legalization of cannabis for medical patients and veterans.

To implement a 3 percent federal medical cannabis tax rate, with funds going entirely to the wall.

To cause a 25 percent loss in illegal revenue to drug cartels after complete legalization.
President Donald Trump has proposed a plan to build a wall along the U.S./Mexico border, and made this a major point in his campaign, however, he has not yet made significant moves to begin border wall construction. President Trump's goal is to increase safety and security for the United States, and McLaughlin says his proposed plan will do just that.
"I respectfully ask President Trump to take a serious look at our proposal," McLaughlin says. "Not only will we be able to regulate and tax cannabis across the U.S., but my proposal would reduce the unemployment rate for veterans by 10 percent. This is no pie-in-the-sky plan either. It's absolutely possible and I think it's a bipartisan win as well as a big win for our veterans and the cannabis community," McLaughlin says.
In September, McLaughlin traveled to Washington D.C. with now-former cannabis-friendly congressman Dana Rohrabacher to discuss cannabis reform with elected officials and members of Congress. McLaughlin even briefly met the President at a fundraising dinner. "I told a group of Republican Lawmakers that cannabis can solve every one of the countries problems. A former Congressman from Texas told me to solve the border wall issue using cannabis. CHALLENGE ACCEPTED," exclaimed McLaughlin.
In addition to hiring thousands of U.S. veterans, the BudTrader proposal calls to hire workers on the Mexican side of the border, as well as source hemp and other materials from Mexico in order to stimulate the Mexican economy.
The proposed cost of President Trump's U.S./Mexico Border Wall is 8 billion dollars. The BudTrader proposal estimates the cost of their Hempcrete Border Wall, with funding from the new proposed 3 percent federal cannabis tax, would be just 4.72 billion dollars, resulting in significant savings. "If they do it my way it ends the argument of who's going to pay for the wall and who's going to build it. The cannabis community is more than happy to trade a 3 percent federal tax for federal cannabis legalization. Millions of Americans still don't have safe and legal access to cannabis. Federal legalization of cannabis combined with the Farm Act (hemp legalization bill) will set the economy and the stock market on fire for years!"
While McLaughlin has not gotten his proposal across President Trump's desk just yet, he claims he's submitted his proposal to former Congressman Dana Rohrabacher's office as well as to California Senator Kamala Harris's office. BudTrader reached out to both Rohrabacher's and Harris's offices for comment but as of the publishing of this article had yet to receive a response.
BudTrader.com is the largest cannabis social platform in the world. Its 2 million registered users can post and respond to classified ads as well as network and communicate with other cannabis enthusiasts.
Source: BudTrader
Share:
---
Categories: Cannabis
Tags: border wall, BudTrader, cannabis, hemp concrete, hempcrete, legalize, mexico border, trump
---
BudTrader
533 2nd street (216)
Encinitas, CA 92024
United States