Top Cannabis Company to Create First-Ever Cannabis Gift Bag for Nominees at a Major Awards Show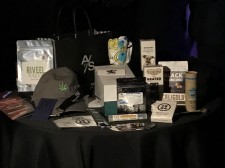 LOS ANGELES, August 22, 2018 (Newswire.com) - BudTrader.com, the largest online cannabis marketplace, will be providing a swag bag full of high-end cannabis goodies and gadgets to celebrities at the EcoLuxe gift lounge, taking place in Los Angeles on Sept. 17.
The EcoLuxe Lounge, a creation of producer Debbie Durkin and Durkin Entertainment, is a luxurious retreat where celebrities can relax in style before the ceremony and collect their carefully curated gift bags, including the BudTrader swag bag. The BudTrader gift bags for celebrity guests will include top cannabis, CBD and hemp products, along with brand new and exclusive gifts and gadgets related to cannabis. Hundreds of nominees, along with other celebrities, influencers, media personalities and entertainment executives have RSVP'd to attend the EcoLuxe Lounge.
BudTrader CEO Brad McLaughlin sees the inclusion of BudTrader in this year's gift bag event as a big win for the industry as a whole. "This is a historic moment for the entire cannabis community," McLaughlin said in a statement on Facebook. "The tide has turned, the green rush is happening and this is the new normal. We no longer have to hide in the shadows. We can attend mainstream events with our heads held high. Together, with the help of this miraculous plant, we can save the world."
BudTrader.com is the largest online cannabis marketplace, with over one million registered users on their platform. Its platform is available in 29 states where cannabis use is legal, as well as Canada and Puerto Rico.
Media Contact:
Marie Brown
marie@budtrader.com
https://budtrader.com
Source: BudTrader
Share:
---
Categories: Cannabis, Celebrities
Tags: Award Show, BudTrader, Cannabis, First-Ever Cannabis Gift Bag, online cannabis marketplace
---
BudTrader
533 2nd street (216)
Encinitas, CA 92024
United States