MMA Champion Chuck Liddell Saves Christmas by Accepting Thousands of Toys Collected by BudTrader.com
Chuck Liddell will be accepting thousands of toys collected through the BudTrader.com Toy Drive and will distribute them to sick children.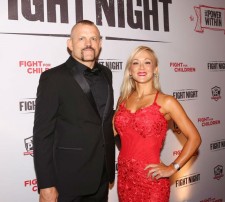 SAN DIEGO, December 19, 2017 (Newswire.com) - ​​​​​​BudTrader.com CEO Brad McLaughlin has announced via a Facebook post that MMA Legend Chuck Liddell will be accepting thousands of toys collected through the BudTrader Toy Drive, and will distribute them to the children at The Foothill Regional Medical Center this Christmas. The generous toy donation by BudTrader had previously been refused by major charities in Southern California, due to the fact that the brand operates within the cannabis industry.
Last week, BudTrader CEO Brad McLaughlin posted an S.O.S. on social media, asking if any charity would be willing to accept the donation of thousands of toys from the cannabis tech brand. One person who saw McLaughlin's post was childhood friend and MMA superstar Ian (Uncle Creepy) McCall. He came across the post as he was taking a break from an intense training schedule for an upcoming fight tournament at the Rizin Grand Prix in Tokyo, Japan.
To me, he's a sports legend like Michael Jordan or Babe Ruth.

Brad McLaughlin, CEO BudTrader.com
"Ian and I grew up together. We went to grade school and high school together," says BudTrader CEO Brad McLaughlin. "I've known him since fourth grade. He almost got us kicked out of summer camp." McCall reached out to his friend and mentor, UFC Champion Chuck Liddell and his wife Heidi, who have done extensive charity work in the past. McCall was able to arrange a call between BudTrader CEO McLaughlin and Chuck and Heidi Liddell.
"It seems so crazy that charities wouldn't accept toys donated for kids in need just because they were collected by the cannabis community," says MMA legend Chuck Liddell. Chuck and Heidi Liddell have been working to provide toys and essentials to kids at The Foothill Regional Medical Center's Pediatric Sub Acute Unit.
About the partnership with Liddell, McLaughlin says, "I've been a huge fan of Chuck Liddell my entire life, and I know what a positive impact he's had as a mentor to my lifelong friend Ian. To me, he's a sports legend like Michael Jordan or Babe Ruth. For a sports legend of his caliber to step up and stand up for us while at the same time making Christmas happen for so many kids – I really can't thank him enough. We couldn't have accomplished the goal of our BudTrader Toy Drive without the Champ's help."
The toys donated by BudTrader will be given away to the young patients at a "gift surprise" event at the hospital on Dec. 21. McLaughlin and BudTrader's CTO Scott Edge will be attending as Liddell's guests, and the event will also feature another celebrity guest; singer Robin Thicke.
About BudTrader.com
BudTrader.com is the largest online medical cannabis marketplace. The unique platform allows users to post free classifieds-style ads for cannabis products, services, business opportunities, job openings and more. Currently, BudTrader operates in all 29 states where cannabis is legal, as well as Washington D.C., Puerto Rico and Canada.
Media Contact
​Tennie@themarijuanajournal.org
​The Marijuana Journal
Source: BudTrader.com
Share:
---
Categories: Celebrities, Business Finance, Sports News, Business, Cannabis
Tags: Budtrader, budtrader.com, Charity, Christmas, Chuck Liddell, Donations, MMA
---
BudTrader
533 2nd street (216)
Encinitas, CA 92024
United States