Former NFL Champion and Pro Cannabis Activist Marvin Washington Joins BudTrader.com as Investor and Board Member
Washington joins former WeedMaps CTO Grant Koneke and Cannabis Investor, Douglas Leighton on the BudTrader Advisory Board.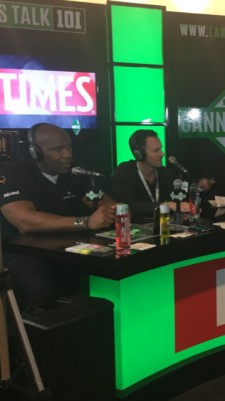 SAN DIEGO, October 11, 2017 (Newswire.com) - BudTrader.com, the world's largest online medical marijuana marketplace, announced today that former NFL defensive end and champion Marvin Washington has become an investor in the company. In addition to his investment, Washington has joined BudTrader's Advisory Board, already consisting of former WeedMaps CTO Grant Koneke, Cannabis industry icon, Douglas Leighton, and Jim Skelton, former CEO of Ocean Pacific.
In a statement released this week, Washington had this to say: "I am excited to join the BudTrader team. I know what championship organizations look like and BudTrader is definitely a championship organization. BudTrader is not only the largest marketplace in the world for cannabis business, but also a place for the cannabis community to connect and share information. I've watched it grow, and I look forward to its continued growth as the cannabis space becomes a true industry."
During his 11 seasons in the NFL, Washington played for the New York Jets, the San Francisco 49ers, and the Denver Broncos, winning a championship with the Broncos in 1998. During his time in the NFL, Washington became passionate about cannabis as an alternative to pain management methods allowed by the league. It has been alleged that the league's doctors rely on chemical pain killers too heavily when treating injured players, causing serious health and addiction issues which, cannabis advocates like Washington say, could be avoided if the NFL were to remove its restriction on cannabis for its players. The NFL currently suspends and heavily fines players who test positive for cannabis use.
For years, Washington has been an advocate for pro football players having the choice to use medical marijuana for pain management in lieu of more addictive opioids.
BudTrader.com is the largest online medical marijuana marketplace, currently receiving 8-10 million pageviews monthly. The site allows users to post ads for their cannabis products, services, jobs, real estate, and more, on a safe and legal platform. BudTrader has just surpassed its 1 millionth registered user, and is operating in the 29 states where marijuana is legal, as well as Washington D.C., Puerto Rico and Canada.
Media Contact:
Kelly Flowers
kelly@themarijuanajournal.org
Source: BudTrader
---
Categories: Business News, Business Technology, Entrepreneurship, Professional Sports, Sports News, Business
Tags: BudTrader, Cannabis, Marijuana, Marvin Washington, NFL, Ocean Pacific, Weedmaps
BudTrader
533 2nd street (216)
Encinitas, CA 92024
United States