Former Congressman Rohrabacher Joins Board of Top Pot Company
Former California Congressman Dana Rohrabacher has announced via a twitter post that he has joined the BudTrader.com advisory board.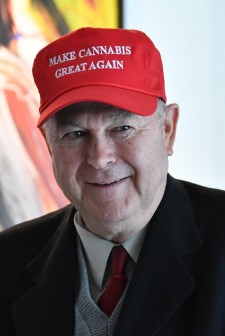 SAN DIEGO, May 29, 2019 (Newswire.com) - ​​​​Former California Congressman Dana Rohrabacher has announced via a twitter post that he has joined the BudTrader.com advisory board ."I'm proud to announce I've joined https://BudTrader.com as a shareholder and advisory board member, so I may continue the fight for cannabis legalization on a national level." tweeted former Congressman Rohrabacher.
Long before adult use cannabis was legalized in his home state of California, the then-Congressman Rohrabacher was making cannabis a key political issue on the basis of freedom. Congressman Rohrabacher has always taken the stance that adult citizens of the United States should have the freedom to make the choice to use cannabis.
In 2014, the Congressman introduced the Rohrabacher–Farr amendment, which has been credited with allowing cannabis businesses to operate without fear of federal law enforcement interference. Through Rohrabacher's strong leadership and guidance, the bill passed with bipartisan approval.
"The Rohrabacher–Farr amendment has been a revolutionary, turning point in cannabis history that gave birth to this whole new billion dollar industry and national movement towards legal cannabis," said BudTrader CEO Brad McLaughlin. "Without Dana and the Rohrabacher-Farr amendment, the legal cannabis market would not exist as it does now. The entire cannabis industry owe's Dana a great debt."
In September of 2018, McLaughlin traveled to Washington D.C. to meet with then-Congressman Rohrabacher and other members of Congress to discuss cannabis and hemp reform. McLaughlin even joined Rohrabacher at a private event at the Trump Hotel, attended by President Trump.
"I received a call from Congressman Rohrabacher," says McLaughlin. "He told me, I need to come to Washington, D.C. — and that my country needs me. I was on the first flight to Washington DC," McLaughlin said. "Dana is a passionate and dedicated cannabis advocate. So when I told him that BudTrader and the cannabis community needed him, Dana was gracious enough to agree. I am proud to have such a prestigious figure as Congressman Rohrabacher on BudTrader's Board."
"It's an issue of Freedom!" says Congressman Rohrabacher. "We want to continue the fight for legalization until every American Adult has the freedom to decide if medical cannabis is right for them. By combining the BudTrader Platform, Brad's passion and vision and my knowledge of the system and my contacts, we will not rest until every American has the freedom to decide if medical or even recreational cannabis is right for them."
Other high-profile members of BudTrader's advisory board include: DJ Lord of Cypress Hill and Public Enemy, former NFL Star Marvin Washington, and 4 time NBA Champion John Salley.
About BudTrader:
BudTrader.com is the largest online cannabis social media site. Its platform is available in the United States where cannabis use is legal, as well as Canada and Puerto Rico. BudTrader's two-million registered users can safely and legally post and reply to classifieds-style ads for cannabis products, services, jobs, equipment and more.
Media Contact:
Eva Silva
eva@budtrader.com
Director of Communications
BudTrader.com
Source: BudTrader.com
Share:
---
Categories: Business News
Tags: board, budtrader, cannabis, congressman, crowdfund, invest, marijuana, pot, rohrabacher, wall street, washington, weed
---
BudTrader
533 2nd street (216)
Encinitas, CA 92024
United States