BudTrader.com Unveils 'Price per Pound Cannabis Commodity Index'
The World's Largest Online Marijuana Marketplace Has Launched Real Time Price Per Pound Commodity Ticker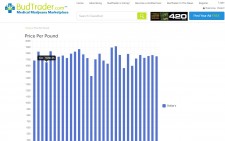 SAN DIEGO, August 30, 2017 (Newswire.com) - BudTrader.com announced today that the site has launched the very first, Real Time Price Per Pound Cannabis Commodity Index on its website. This Index is the first of its kind to update cannabis prices daily, in real time, based on the median price of a pound, as posted by the one million plus users currently on BudTrader's platform.
BudTrader.com is the largest online medical marijuana marketplace in the world, and allows cannabis business owners to legally post and respond to ads for marijuana products and services. BudTrader's Price Per Pound Cannabis Commodity Index will take the median price from all ads posted to the site for cannabis by pound, resulting in an average daily price by state and nationwide, calculated by a proprietary algorithm in real time.
This is an exciting time in our history. Prohibition has ended and the 'Green Rush' has begun. We haven't even begun to scratch the surface on how big the cannabis market can be or all the applications for medical cannabis and industrial hemp.

Brad McLaughlin, CEO of BudTrader.com
BudTrader's CEO Brad McLaughlin says the innovative cannabis index is a huge step towards market legitimacy for the legal weed industry. "Whether politicians or Wall Street guys like it or not, cannabis is a commodity, and it won't be long before it's traded publicly just like pork bellies, frozen orange juice and gold. The BudTrader Price Per Pound Index for Cannabis lets marijuana business owners, investors, growers and fund managers watch and even forecast market trends based on real-time prices."
"We are expecting sites like Yahoo Finance, Bloomberg, eTrade and more to all be displaying the Price Per Pound Cannabis Index in the near future," continued McLaughlin. "Michael Bloomberg hasn't called me yet, but I've informed my secretary to put him straight through to me when he does!" McLaughlin joked.
In addition to pushing for cannabis to be publicly traded as a commodity, BudTrader.com has set its sights on taking its own platform public as well. The brand has welcomed a slew of new and influential investors in recent months, including best selling rapper Slim 400; Doug Leighton, the hedge fund manager who took MassRoots public; Grant Koeneke, former CTO of Weedmaps; and Jim Skelton, former CEO of clothing and lifestyle brand Ocean Pacific and Fredericks of Hollywood.
In addition to BudTrader's recent push to change the way the marijuana industry is viewed by Wall Street investors, the site has also scored big with its newly launched network of cannabis-based shows, BudTrader TV. The brand is also currently in production on a reality TV show based on the day-to-day operations at the brand's HQ in San Diego, California.
Kelly Brown
kelly@themarijuanajournal.org
www.themarijuanajournal.org
Source: BudTrader.com
Share:
---
Categories: Business Development, Business News, Business Technology, Finance, Business Finance, Business
Tags: bloomberg, etrade, fredericks of hollywood, hip hop, marijuana, massroots, michael bloomberg, ocean pacific, slim 400, stock, weedmaps, yahoo
---
BudTrader
533 2nd street (216)
Encinitas, CA 92024
United States