BudTrader.com to Provide Free Consultation by Medical Marijuana Doctor at Their Health and Wellness Event
Online Medical Marijuana Marketplace Will Have Doctors On-Site to Issue Free Medical Marijuana Cards to Qualified Patients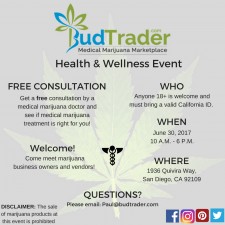 San Diego, CA, June 29, 2017 (Newswire.com) - The largest online medical marijuana marketplace, BudTrader.com, announces that they will be sponsoring a Health and Wellness event with free admission to registered users of their site.
BudTrader will have medical marijuana doctors on-site, who will be giving free consultations, and will be giving free medical marijuana cards to patients who qualify. The event will take place at Marina Village in San Diego, CA from 10 a.m. to 6 p.m. on Friday, June 30th.
"People come up to me all the time asking how they can get a recommendation to use medical marijuana, which is currently required by state law in order to purchase cannabis. I truly believe cannabis use can help people from all walks of life, so with this event, I want to remove some of the stigma and mystification that surrounds the process," says BudTrader.com CEO Brad McLaughlin. "People will get to go straight to the source and speak to a licensed medical doctor and get their questions answered about medical marijuana treatment options."
In addition to licensed medical doctors who will be on hand to give free consultations, the site's promo models, the BudTrader Babes will be on hand to hang out with attendees, give hugs, and pose for pictures. The event will also be filmed for an upcoming reality show project featuring the day-to-day operations of BudTrader.com.
Media Contact:
Marie Brown
marie@themarijuanajournal.org
Source: BudTrader.com
---
Categories: Business News, Business Technology, Entrepreneurship, Small Business, Healthcare, Business
Tags: 420, budtrader, cannabis, doctor, healthcare, marijuana, medical
BudTrader
533 2nd street (216)
Encinitas, CA 92024
United States