BudTrader.com Hires Ex-Weedmaps CTO
BudTrader.com announced today via a blog post that they have hired former weedmaps.com CTO Grant Koeneke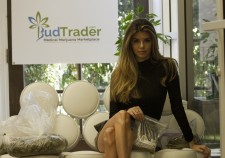 San Diego, California, May 10, 2017 (Newswire.com) - Online medical marijuana marketplace BudTrader.com announced today via a blog post that they have hired former weedmaps.com CTO Grant Koeneke. Grant comes to BudTrader.com with a background in Strategic and Operational Technology Planning and Development and is one of the leading experts in Emerging Technologies and Enterprise Database Architecture. 
"Grant is a genius and a great developer who's also an expert in the online cannabis field," says BudTrader.com CEO Brad McLaughlin. "He comes to us from Weedmaps, where he created industry-leading technology. We are very excited that Grant is joining our team and accelerate the future of BudTrader.com."
BudTrader.com is already the largest online medical marijuana marketplace, and growing quickly. The site now reports upwards of seven million monthly page views, and over 750,000 registered users. The platform allows users in the medical marijuana and legal weed industries to post ads for their products, services, job openings, properties for sale, and more. With new users pouring in, BudTrader.com is focused on building a scalable infrastructure that will allow for fast, exponential growth of their user base that many industry forecasters are predicting. 
The acquisition of Grant Koeneke from Weedmaps is an indication of the growing clout of BudTrader.com within the online cannabis market. Most recently, a survey of current and former NFL players conducted by BudTrader.com made news in publications like High Times Magazine by revealing potentially serious issues with opiate painkiller use in the NFL, and well as the players' desire for allowed use of medical marijuana as a pain management alternative. Currently, the NFL has harsh punishments in place for players who test positive for marijuana use, even in states where marijuana is medically or recreationally legal. 
In addition to his experience as CTO at Weedmaps and his new position with BudTrader.com, Grant Koeneke has served as CTO for Klique Inc., a popular location-based networking app as well as worked for Creative Artists Agency as Director of Engineering.
Media Contact:
Daniel Johnson
daniel@themarijuanajournal.org
Source: BudTrader.com
---
Categories: Business News, Business Technology, Business to Business, Entrepreneurship, Small Business, Business
Tags: 420, budtrader, business, cannabis, craigslist, google, marijuana, news, weed, weedmaps, yahoo
BudTrader
533 2nd street (216)
Encinitas, CA 92024
United States