BudTrader.com Gives Swag Bags Filled With Premium Cannabis Products to Television Awards Show Nominees
Top Cannabis Company Distributed Weed Filled Gift Bags to Nominees of Major Awards Show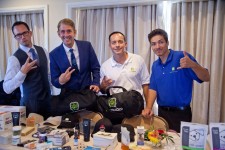 LOS ANGELES, September 20, 2018 (Newswire.com) - BudTrader.com, the largest online cannabis platform, has gifted 300 swag bags filled with luxury cannabis products to nominees of a top television awards show at Debbie Durkin's 12th annual EcoLuxe Lounge. The event took place at the Beverly Hilton Hotel on Friday, September 14.
The EcoLuxe Lounge was created by producer Debbie Durkin to honor television awards show nominees at a luxurious gift lounge where they can relax in style before the ceremony and collect their high-end gifts. In the past, EcoLuxe Lounge gift bags have included vacations to exotic locales, free plastic surgery, high-end accessories, unreleased tech products, and more.
I guess celebrities really are just like us, because they love cannabis too!

Brad McLaughlin, CEO of BudTrader.com
This marks the first time that EcoLuxe gift lounge has allowed cannabis products to be included as part of swag bags for celebrity nominees.
"The nominees who received the BudTrader swag bags represented the best in their industry, and I wanted to show them the best of ours," said McLaughlin. "We succeeded, with the help of some of the most prestigious cannabis brands. The celebrities got totally hooked up, and a lot of them expressed how excited they were to get home and test out all the crazy products we were gifting them. I guess celebs really are just like us because they are excited about cannabis too!"
Included in each of the 300 smell-proof BudTrader duffel bags were innovative and high-end cannabis products and gadgets from some of the most prominent brands in the industry, along with BudTrader hemp t-shirts, hats and other merchandise. The brands and products included in the BudTrader EcoLuxe Lounge swag bag for nominees included the following:
Dope Magazine is a lifestyle publication focusing on creating purposeful and relevant conversations surrounding cannabis. Dope Magazine's August 2018 issue was included in each bag, and a reporter from the magazine was on hand to take pictures and document the EcoLuxe Lounge event.
My Best Bud supplied liquid cannabis formulas which have been lab tested especially for use with pets. Each nominee and guest of the EcoLuxe Lounge provided with hemp chew samples and full-size products from My Best Bud.
The Colorado brand Enerhealth Botanicals manufactures organic superfoods, herbal tinctures and more. Enerhealth Hemp Hearts and Nutricafé Organic Immune Supporting Coffee were included in BudTrader's swag bag.
https://www.enerhealthbotanicals.com
Soko provided their luxury CBD and hemp balm. Their cannabis-derived tinctures and balms are portable and perfect for on-the-go relief.
Pure Hemp, a brand known for their exceptional quality rolling papers made from 100% eco-friendly hemp, contributed a pack of their Roll Your Own papers in each bag.
https://www.purehemp.com
Moon Picks, a unique brand which creates toothpicks infused with THC and CBD, contributed toothpick packs containing both blends to the guests of EcoLuxe Lounge.
Taking things to another level inside BudTrader swag bag were Hash Bones, extremely potent Hash Infused Pre-Rolled Joints, provided by House Prerolls.
http://houseprerolls.com
Bark Bliss, a company specializing in creating hemp formulas for dogs, contributed all three varieties of its hemp chews for dogs. The formulas available are Hip + Joint Support, Calming Support and Immune + Heart Support.
Mighty Meds, a premium vape brand, included their Recovery vape cartridge in each BudTrader swag bag. This ultra-potent combination of THC and CBD is blended to create a strong and balanced high, and would be ideal for work or outdoor activities.
Journeyman's Isolate Pure Marionberry CBD Wax samples, also included in BudTrader swag bags, are perfect for dabbing, mixing into joints or pipes and cooking. Marionberry has a complex and rich earthy flavor that skirts the edge of bitterness yet is mostly sweet.
https://www.lifeisajourneyman.com
Masaya brand contributed their Pure 3000 CBD tincture. The product is made from pure 99% CBD and offers the highest potency and quickest delivery available on the market.
https://masaya-world.myshopify.com
Another premium CBD extract was provided by Pure Bloom, a brand with products designed to provide healthier alternatives to traditional pharmaceutical medicine and invasive treatment options. Included in each BudTrader swag bag was a full size vial of Pure Bloom's Premium Hemp Extract Essential Oil.
https://getpurebloom.com
For those into luxury beauty products, CBD For Life's Pure CBD Hand and Body Massage Lotion was included. This product was designed to repair stressed-out skin and bring back skin's healthy glow.
Oakland-based brand Cannatique Farms, specializing in high quality 'proprietary' cannabis strains, included their Blueberry Cruffin Pre-Rolled Joints, along with a jar of their signature flower, in each BudTrader swag bag.
Also included in BudTrader's swag bag were hemp-infused dog treats from Purity Petibles, a sister-brand of Purity Cannabis. Purity Petibles start with top-notch ingredients, sourced from the finest PRC hemp oil manufacturer in the business.
Top edibles brand District Edibles provided their premium edibles, made with fully activated premium cannabis oil, for the BudTrader swag bags. Both Indica and Sativa strains were given to each guest.
https://districtedibles.com
Cheech's Private Stash, the all-new personal brand of cannabis curated by legendary stoner Cheech Marin of the comedy duo Cheech and Chong, contributed branded hats, including red beanies designed to look just like Cheech's signature costume.
https://www.cheechsprivatestash.com
Select Oil's CBD Blend Pens in lavender, grapefruit and spearmint flavors, were also inside each BudTrader swag bag. The pens combine the medical benefits of CBD with essential oils and natural extracts.
http://selectoil.com
Defonce Chocolatier provided a stunningly-packaged luxury chocolate bar infused with cannabis to each nominee who attended the EcoLuxe Lounge. Their seed-to-bar artisanal chocolates have set new industry standards for the world of edible confections.
Phinest Cannabis, a cannabis brand specializing in growing "fire" (exceptionally good marijuana), included a jar of their top-quality flower and a generously packed pre-roll joint in each BudTrader swag bag.
https://www.instagram.com/phinestcannabis
Creative cannabis brand Sonder contributed vape cartridges featuring strains like Gorilla No 4, Girl Scout Cookies and Blue Dream. The brand uses Mendocino grown flower and was founded by individuals with a deep love of cannabis as a tool for creativity.
http://www.sondertime.com
Buck Shot Pride Wellness, created with the LGBTQ community in mind, Pride Wellness's missions is to provide, create and promote natural alternatives to prescribed narcotics in support of community health and well-being. Developed by a chemist specializing in cannabis treatments.
http://Pridewellness.net
A cannabis brand run by pro skaters, Devils Lettuce, provided large bagged samples of its premium cannabis, along with a pre-rolled joint for each BudTrader swag bag.
https://www.instagram.com/devilslettucecannabis
Occidental Hills Farm, a grower of premium cannabis flower since 1996, provided two pre-roll joints packed with their Dosido and Strawberry Banana strains. Occidental Hills Farm
https://naturalcannabis.com/occidental-hills-farm
Source Cannabis, a brand with roots in LA cannabis cultivation, provided a jar of its beautifully packaged "connoisseur cannabis" for each BudTrader swag bag.
https://www.sourcecannabis.com
Utopia Peanut Butter Macaroons were a favorite among celebrity guests who picked up BudTrader swag bag. Each bag contained four 50g cannabis-oil-infused macaroons, and guests were warned to consume them carefully, as edibles can be very potent and take up to an hour to reach their full effects.
https://www.utopiacannabis.com
Centurion Extracts contributed a sleek, discrete zipper pouch containing a vape battery, a Centurion vape cartridge, a charger for the battery, a lighter and rolling papers to the swag bags.
LA Kush, a popular East LA cannabis dispensary and grow operation, contributed a sealed bag full of cannabis products and accessories, including their proprietary "Blue Box" cannabis flower, a vape battery and cartridge, and more.
The award-winning edibles brand Kushy Punch contributed samples of their incredibly potent THC medicated gummies.
Emerald Daze LLC, a brand committed to serving patients who are in need of an easy delivery device for their medicine, included one of their CBD Metered Dose Inhalers in each BudTrader swag bag. This innovative product allows those with respiratory issues to safely and quickly administer medicinal CBD.
http://www.emeralddazellc.com
Celebrity guests who dropped by the EcoLuxe Lounge on Friday afternoon to receive BudTrader luxury cannabis swag bag and other high-end gifts included Lou Ferrigno ("The Hulk"), Kelly Jenrette ("The Handmaid's Tale"), Michael Campion ("Fuller House"), Kim Estes ("Dicks"), Patricia Kara ("Deal or No Deal"), Donna Spangler ("American Poltergeist"), Lexi DiBenedetto ("Modern Family"), Damien Puckler ("Grimm"), Rolonda Watts ("Madea" films) actress Leslie Zemeckis, Raquel Leviis ("Vanderpump Rules"), Douglas Bennett ("Sons of Anarchy"), Joseph Gatt ("Game of Thrones," "Thor"), and many other Hollywood talents.
BudTrader CEO Brad McLaughlin sees the inclusion of BudTrader in this year's EcoLuxe Lounge as historic. "The tide has turned," he said in a statement on Facebook. "This is the new normal. We no longer have to hide in the shadows. We can attend mainstream events like Comic-Con, and the Emmys with our heads held high. Together, with the help of this miraculous plant, we can save the world."
BudTrader.com is the largest online cannabis marketplace; and its platform is available in 29 states where cannabis use is legal, as well as Canada and Puerto Rico. There are over one million users registered on their platform.
Media Contact:
Marie Brown
https://budtrader.com
Source: BudTrader.com
Share:
---
Categories: Arts and Entertainment, Cannabis
Tags: Award Show, beverly hills, BudTrader, Cannabis, Cannabis Gift Bag, celebrities, swag
---
BudTrader
533 2nd street (216)
Encinitas, CA 92024
United States