BudTrader.com CEO Brad McLaughlin Pushes Back, Calling for a Vegas Boycott Over the Banning of MassRoots CEO
McLaughlin Posts Video From SoCal Pechanga Casino Inviting MassRoots and the Rest of the Legal Cannabis Community to Pechanga for 7/10 Party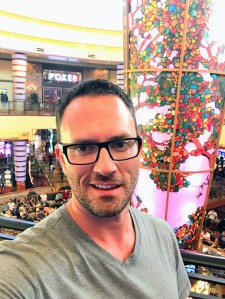 Temecula, California, June 19, 2017 (Newswire.com) - ​​​​​​​Brad McLaughlin, CEO of the largest online medical marijuana marketplace BudTrader.com, has posted a passionate video to the brand's Instagram account (@realbudtrader) in which he calls for a boycott of Las Vegas due to a Las Vegas casino's recent decision to to ban Isaac Dietrich, CEO of the huge cannabis social media platform MassRoots.
According to reports, the casino's decision to ban Dietrich was based solely on the fact that he serves as chairman and CEO of MassRoots, a technology company focused on the cannabis sector. Dietrich is also one of the cannabis industry's highest-profile media executives, he is par of the investment group that recently purchased controlling interest in High Times Magazine.
"If our money is no good in Las Vegas, then were happy to spend our entertainment dollars elsewhere!"

Brad McLaughlin, CEO
McLaughlin, who himself is a high-profile figure in the tech and legal cannabis industries, posted the video from Pechanga Resort & Casino, an Indian casino located in Temecula, California and the #1 rated casino in the United States.
"BudTrader actually had a fun event planned in Las Vegas this weekend, but when I found out they banned my good friend Isaac Dietrich, CEO of MassRoots, just for being a player in the legal cannabis industry, we cancelled our plans immediately," explains McLaughlin. "Instead of going to Vegas where they're hostile to our industry, we decided to come check out Pechanga and it's fantastic! We invited the Massoots team and the rest of the legal cannabis industry to Pechanga to celebrate the 7/10 Vape Holiday."
McLaughlin says his goal in boycotting the city is to force acceptance of what he considers to be a legitimate, legal, and flourishing cannabis industry. "The legal cannabis industry is a multi billion dollar business," says McLaughlin. "If our money is no good in Las Vegas, then were happy to spend our entertainment dollars elsewhere!"
Many find it surprising that a Las Vegas casino would want to alienate cannabis consumers, due to the fact that Vegas is home to the largest cannabis trade show, the annual MJ Biz Conference, which normally draws upwards of 14,000 attendees each November. BudTrader.com has been a strong presence at the conference in previous years, but McLaughlin says they will not attend this year unless Las Vegas hotels and casinos will their reverse their decision to ban Isaac Dietrich.
BudTrader.com is an online platform which allows users to post and respond to ads for medical marijuana products and services. The site has grown exponentially in the first half of 2017, and now draws over 7 million page views monthly, with over 900,000 registered users. CEO Brad McLaughlin has used his new public platform to advocate passionately for safe access to medical marijuana across the country, and has begun to mold the BudTrader brand into a media powerhouse with the recent launch of BudTrader TV, which will feature original content from a variety of creators on the subject of cannabis.
Media Contact:
Paul Vara
Staff Writer
The Marijuana Journal
Source: BudTrader.com
Share:
---
Categories: Business News, Conventions, Trade Shows, Meetings and Events, Gambling, Arts and Entertainment, Casinos, Business
Tags: budtrader, cannabis, casino, dispensaries, encore, gambling, las vegas, marijuana, massroots, pechanga, weed, wynn
---
BudTrader
533 2nd street (216)
Encinitas, CA 92024
United States