BudTrader CEO Meets President Trump, Members of Congress to Discuss Cannabis Reform
BudTrader.com CEO Brad McLaughlin meets with GOP Leaders at the Capitol and at the Trump Hotel in D.C. regarding the state of legal cannabis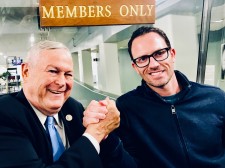 SANTA MONICA, Calif., October 11, 2018 (Newswire.com) - ​​BudTrader CEO Brad McLaughlin traveled to Washington DC September 27 and 28 to meet with lawmakers and Republican leadership. The purpose of McLaughlin's visit was to discuss the current status of the legal cannabis industry, as well as potential reform, and to raise the profile of an emerging industry of cannabis professionals.
McLaughlin was invited to Washington D.C. by Southern California Congressman Dana Rohrabacher, who supports cannabis legalization for both medical and recreational purposes. "I invited Brad McLaughlin out to Washington because he is a terrific leader in the incredible, emerging, cannabis industry. He's one of only a handful of Cannabis entrepreneurs that has the expertise and sophistication to bring the level of professionalism that is needed when meeting with some of the most conservative members of Congress," said Congressman Rohrabacher.
Following his meetings on Capitol Hill, McLaughlin attended an NRCC fundraiser where he met President Trump, Secretary of Energy Rick Perry, and many more Republican members of Congress (the entire Republican Congressional Delegation was invited).
"In my meetings with members of Congress, I continually stressed that we could create jobs, lower crime, generate tax revenue for schools and infrastructure, fight opiate addiction, help our honored veterans, take carbon out of the atmosphere, remove toxins from our soil and create a second gold rush or 'green rush' for American farmers and entrepreneurs by legalizing cannabis," said McLaughlin. 
Some of the topics that were discussed with Republican leadership and members of Congress were:
- How legal cannabis could fight the opiate epidemic
- Growing cannabis/hemp to remove carbon from the air and toxins from the soil
- How legal cannabis could help veterans with PTSD
- Legal cannabis business owners needing banking services at FDIC insured banks
- Cannabis/Hemp as a "Cash Crop" for struggling US farmers
- Cannabis being the next industrial revolution
McLaughlin says he saw that Republican lawmakers were receptive to his calls to end cannabis prohibition. "I did not experience any kind of negativity for being the CEO of a cannabis technology company. Republican leaders were open-minded, cooperative, friendly and engaged in our meetings. They asked a lot of great questions and had a lot of great ideas. I feel like some major policy changes are on the horizon for cannabis," said BudTrader CEO Brad McLaughlin.
Following McLaughlin's trip, Congressman Rohrabacher issued the following update: "Love him or hate him, President Trump keeps his promises. During the 2016 presidential campaign, Donald Trump stated that medical cannabis should be legal and that individual states should decide on adult use cannabis (recreational). The president is a man of his word and cannabis reform is coming very soon at the federal level. It could be as early as spring of 2019, but definitely in the next legislative session."
McLaughlin sees the sky as the limit for cannabis in the United States, adding, "The green rush is happening, the genie is out of the bottle and there is no going back at this point. Cannabis is the next industrial revolution."
BudTrader.com is the largest online cannabis marketplace. Its platform is available in 31 states where cannabis use is legal, as well as Canada and Puerto Rico. BudTrader has two million registered users who safely and legally post and reply to classifieds-style ads for cannabis products, services, jobs, equipment and more.
Media Contact:
Marie Brown
marie@budtrader.com
Media Relations Manager
BudTrader.com
Source: BudTrader
Share:
---
Categories: Politics, Cannabis
Tags: legal cannabis, medical marijuana, Rohrabacher, Trump
---
BudTrader
533 2nd street (216)
Encinitas, CA 92024
United States